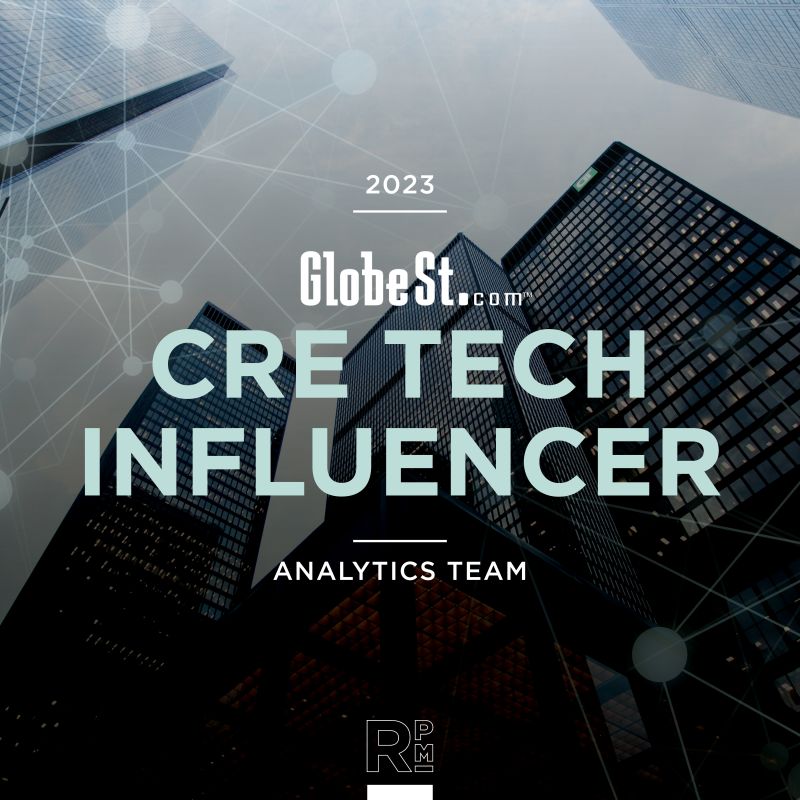 RPM Living's Analytics Team Recognized as a Tech Influencer by GlobeSt.com for its Innovative Thinking and Proprietary Solutions
RPM Living's Analytics Team has received recognition for its forward thinking, having been named a 2023 CRE Tech Influencer by GlobeSt.com. Formed in 2020, the team has developed and implemented a data infrastructure that helps to seamlessly move data around the company, greatly improving efficiency across all levels and departments of the organization during its largest years of growth.  
The Analytics team has developed tools and processes to help the organization scale and capture data to make informed decisions including a customized marketing BI dashboard that provides proprietary data insights that directly impact property performance, an internal key performance indicator (KPI) program that's able to predict NOI, a front-end reporting tool to provide better insight into property performance, and an internal billback application that has greatly increased collections of billable services.  
By leveraging these tools and technology, the Analytics team has supported and enabled our best-in-class Transitions & Due Diligence team in transitioning in a record number of properties, which directly supported the organization being able to climb from No. 42 to No. 6 on the NMHC Top 50 list in just three years.   
CRE Tech Influencers recognizes those in the commercial real estate space that not only have 360-degree knowledge of technology but an in-depth understanding of the problems the technology needs to solve. The CRE Tech Influencer accolade compliments other recent awards RPM has earned including its Marketing team being named Department of the Year in the 2022 PR & Marketing Excellence Awards. 
To read more about GlobeSt.'s 2023 Tech Influencer, click here. To learn more about RPM Living, visit RPMLiving.com. 
### 
About RPM Living 
RPM Living is a full-service multifamily management company offering an innovative and personalized approach to real estate services including management, investment and development. Headquartered in Austin, Texas, RPM is ranked #6 on the NMHC Top 50 Largest Apartment Manager list, managing more than 150 clients, 10 regional offices and 148,000 units, with an owned portfolio of $3 billion. Founded by Jason Berkowitz in 2002, the firm has grown to over 3,200 associates nationwide spread across over 45+ markets, all of whom share the collective vision to enhance clients' investments through customized solutions and exceptional resident-centric service. To learn more about RPM, visit RPMLiving.com.   
For the latest news, visit RPMLiving.com/blog.