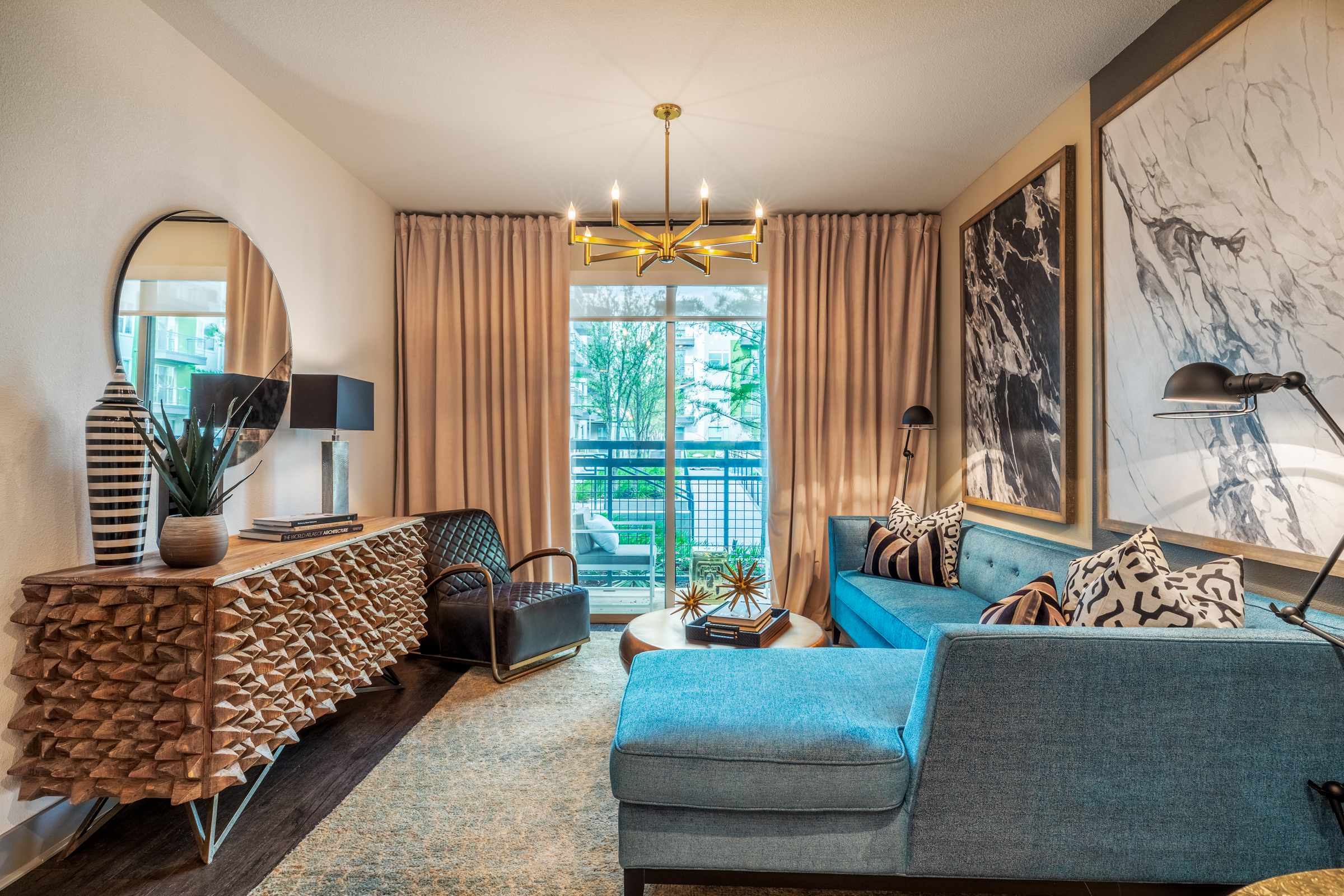 Interior Design Ideas for Apartment Living Rooms
Making a new apartment feel like home can be hard, especially when you don't have a lot of space to work with and can't make permanent changes. Despite those challenges, there are a few easy ways to transform your apartment into a homey haven.
1. Keep furniture off the floor
Nothing makes a small space look even smaller like a bulky sofa sitting in the middle of the room. Opt for some extra "leggy" furniture that sits high above the floor. Mid-century modern furniture is known for adopting this style and can help make your space feel more open and spacious. Look for furniture with long tapered legs, like this sofa, perfect for making your room appear larger.
2. Layer a rug over your carpet
Sometimes you're stuck with a boring carpet or one that clashes with your design style. When this happens, try laying down a rug that matches your style to help complete the vibe of the room. Rugs are also great to designate different spaces throughout your apartment, allowing the layout to feel more open. Extra bonus, when you move out you can take the rug with you!
3. Divide your space with furniture
Keeping with the theme of using furniture as markers, the best small apartment design ideas all use furniture to create different 'rooms'. For example, you can use the back of your couch or sofa to serve as a "wall" between the dining area and living room. See-through bookcases or folding room dividers also work great to help separate spaces.
4. Opt for clear furniture
The oldest trick in the interior designer's handbook? Clear furniture: it makes any room seem more spacious. Choosing pieces made of glass or acrylic is a great way to trick the eye into thinking your space is larger than it is. Try swapping out your coffee table or dining room table for glass or acrylic.
5. Use your space vertically
Apartments are not known for their vast square footage, but you can make the most of your space by going vertical. A great way to capitalize on vertical space is with bookcases and floating shelves. By tapping into the extra space above, you'll remove clutter from the floors, draw the eye up, and create a more spacious living room.