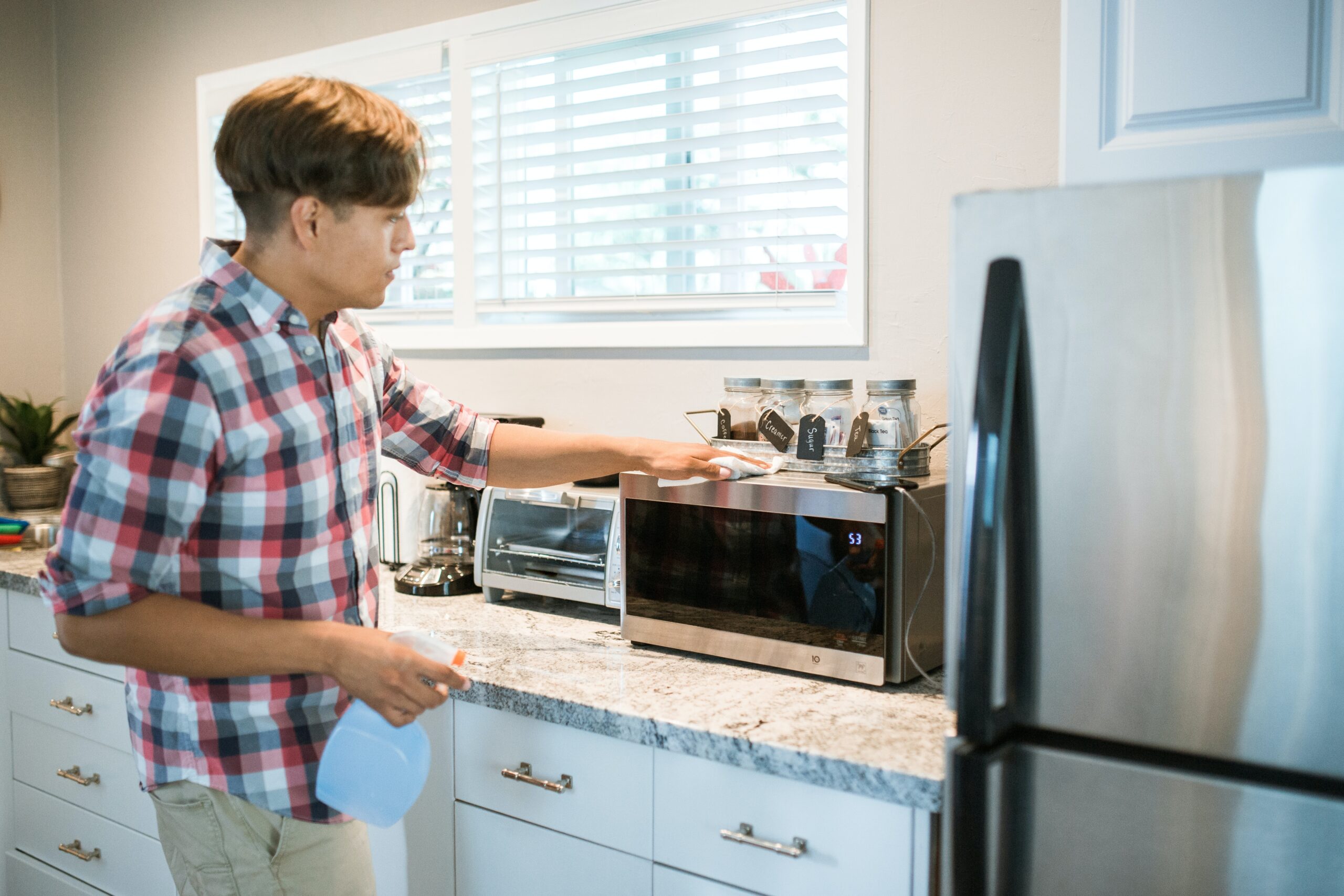 How & When To Clean Common Household Appliances
Modern, energy-efficient appliances are a must-have for renters, but in order to enjoy consistent functionality for all your appliances, regular cleaning is also a must. Residents are often unsure how often they should clean their apartment's major appliances or what method works best. That's why we put together this blog post on how to clean the top home appliances at our luxury apartments AND how often you should do it. Let's jump right into it!
Washing Machine
Regular cleaning helps clear out residue and keep your washer running smoothly. To clean a washing machine, run an empty load once per month with hot water and about a cup of distilled white vinegar to sanitize the basin and wipe out any lingering germs.
Dishwasher
Your dishwasher should be cleaned once a month to rinse away food residue and ensure your dishes are optimally cleaned every single cycle. To clean the dishwasher in your apartment, run an empty load with a cup of white vinegar placed in the top rack of the washer (inside a dishwasher-safe vessel). Use hot water. Leave the dishwasher open to fully air dry.
Microwave
There's no hard-and-fast rule when it comes to how often you should clean your microwave; just be sure to do it whenever it's dirty in order to avoid stains and stuck-on food that just gets worse over time. When cleaned regularly, using plain old dish soap, water, and a sponge will typically suffice. For stuck-on particles, microwave a cup of white vinegar or water in a microwave-safe dish for 5-10 minutes, then clean as normal.
Refrigerator
The refrigerators at our apartments should be cleaned once every few months or whenever dirty. To begin, remove everything from the refrigerator, including drawers and shelves. Clean everything with soapy water or diluted vinegar. Don't use surface cleaners with non-food-safe chemicals. Make sure to clean the gasket around the fridge door (the part that makes the door seal) with soapy water. If even with regular cleanings, you experience problems with a smelly fridge, baking soda can be kept in the fridge to help eliminate fridge odors.
Stove & Oven
If you cook at home, your stovetop is likely the item on this list that should be cleaned the most often. Clean your stove and oven whenever dirty, especially because leaving them dirty can create smoke or even fire AND make stains and stuck-on food harder to clean later. If the stovetop is cleaned regularly, warm water, dish soap, and a sponge should do the trick. To clean your oven, place an oven-safe pan filled with water on a rack in the middle of the stove and heat to 225 degrees Fahrenheit. Wait 15 minutes, then turn off the oven. When cool to the touch, mix remaining water with dish soap and use a sponge to clean out the oven.
That's it for our tips on cleaning your household appliances! As always, if you're looking to live in a community that makes it easy to care for your apartment, you can always shop RPM communities across the US by checking out our Communities page!